Ji De (now known as Jackson)
Born in May 2004 in Qinghai province with imperforate anus and abandoned at the state orphanage. He was flown to Beijing at 23 days old and became Blue Sky's first baby resident. He checked into the hospital for immediate medical care and surgery.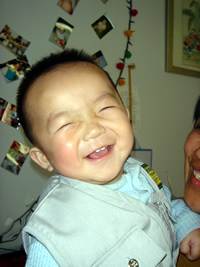 He underwent 3 surgeries in a year to correct his congenital medical condition and surely gave Blue Sky lots of love and stress at the same time! He needed constant medical care, and we were on our toes to keep him happy, infection-free and loved!
At 2 and half years old, he was adopted and is now living in the US with his beautiful American family. He has 2 older brothers and 2 younger sisters, and his loving parents update us on his new life in American in a family. We couldn't be happier for him of course, although letting him go was so difficult for the staff that had cared for him for so long. The smile on his face just reminds us that he has a family of his own, and we've done our part to get him there, alive and well.
..
Journal archives of 2004 (a little tedious to read, but if you want the full account... go for it !)
Fore more information on Blue Sky's work, please do not hesistate to contact us.
A Medical and Physical Therapy Foster Home for Orphans in China