Bao Bao's Story
Tian Bao (also called Giulia Sky, and Bao Bao) was born on June 18th 2003 in China. She was found covered in after-birth at the doorstep of a small orphanage, with her liver and intestines contained in the umbilical sac, outside of the abdomen. This congenital birth defect is called "omphalocele" and occurs 1 in 10000 live births. The orphanage workers rushed her to the nearest hospital, where the doctors removed the protective sac containing her organs, and attempted to stitch the skin together. This failed, and they told the orphanage workers to take her home to die.The orphanage workers took her home, cared for her, and made her as comfortable as possible. Over the next few days, Bao Bao showed no signs of being near death, ate well, and looked healthy despite her big open wound and protruding organs. Then at 2 weeks old, Aunty Molly happened to be visiting the orphanage and was brought to see the child that was waiting to die. When Molly saw Bao Bao, she could not believe that they were talking about her. She had so much life in her, and was far from giving up. So Molly made a few calls and arranged to bring BaoBao to Beijing, where the expatriate hospital thoroughly cleaned her wound and used protective sterile dressing to cover it. No surgery was performed and a special chinese medicine was used to help the skin grow over naturally.
Upon arriving in Beijing, Bao Bao stayed temporarily at 2 private homes before becoming one of the first residents at newly opened Ping An Medical Foster Home, run by Eulalia Andreasen and Teresa Woo. The foster home can accomodate 8 children with medical needs. Then in December 2003, at 6 months old, when the foster home was a little crowded with 9 children, Bao Bao was taken home by Tania Hoahing. She immediately became a part of their family, and was even accepted by the family dog George, eventually. She was also named Giulia Sky.As the months passed, Bao Bao proved to be an intelligent fireball, full of energy and spunk. Her skin healed over the exposed organs completely, left an ugly scarand her abdomen protruded outwards a fair bit. Other than a bit of constipation, she developed normally, and has no other associated congenital defects. Children born with omphalocele may also have heart defects, imperforate anus, cleft lip and palate and other conditions. Bao Bao is in fact, in the 75th percentile for height for chinese girls.
Tania made it a priority to help Bao Bao with her omphalocele condition. After consultations with paediatric urology surgeons, it was advised that she needed muscle repair surgery around 12 to 14 months age. The decision was made to have her travel to Singapore to have her surgery with the best surgeons. It took more than 3 months before Bao Bao's passport was finally issued, and as soon as it was in hand, the visa to Singapore was applied for, the surgeon was informed, and arrangements made to travel to Singapore for the surgery. She arrived in Singapore on 9 August 2004, at age 13 months 2 weeks. A week later, she underwent 4.5 hours of surgery under the skiled hands of Dr C.K Sim. He removed her appendix to make space for the liver and intestines that needed to be put in their proper positions, and miraculously managed to close the muscles perfectly, giving Bao Bao a nice flat tummy. He even removed most of her ugly scar and gave her a belly button as a bonus ! She is recovering well after the surgery, and will probably miss the bulge on her tummy that she used to touch so affectionately.
Many people tell her that she's a lucky girl, but in truth, we are the lucky ones to have her in this world and in our lives. Hopefully, one day, she will be Ms Giulia Sky Bao Bao. What a mouthful !
UPDATE in 2008: It took 3 years to finalise adoption for Giulia Sky Bao Bao, but it happened.
The hospital in Beijing removed the old and infected dressing, cleaned the exposed organs and surrounding area.
Bao Bao when she arrived in Beijing. Picture shows a kind of net, stitched to the edges of skin, with gauze covering her liver and intestines.
The skin healed naturally, covering the exposed organs.
An ugly scar, but she's happy.
You can see that the stomach muscles are pushed off to the side.
Pictures taken the day before her surgery.
30 minutes after surgery. Her tummy is flat !

A few hours later, she's more awake and managed a smile for mama.

Day3 in the hospital. She was frustrated at not being able to eat or drink anything.

Her first taste of milk on Day 6. She managed to hold the bottle even with hands bandaged.

Fooling around a few hours before being discharged on Day 7.

A slimmer faced BaoBao... all smiles as usual.

The following pictures were taken the week before BaoBao had her surgery in Singapore.
Looking for a volunteer to help neaten this page !
Please be warned that the pictures below are quite graphic. Continue looking at your own discretion.
baobao taking a nap after having her plaster removed.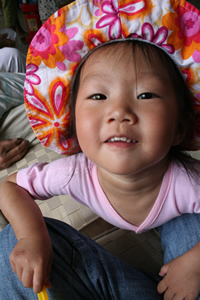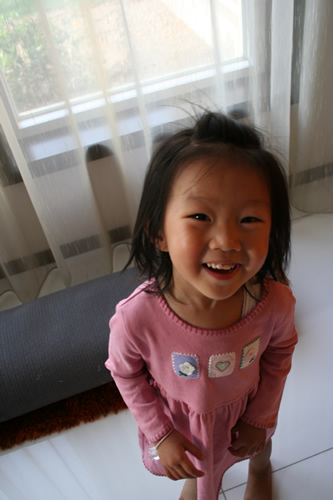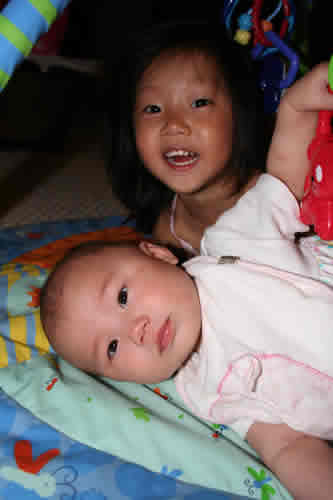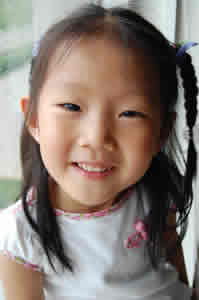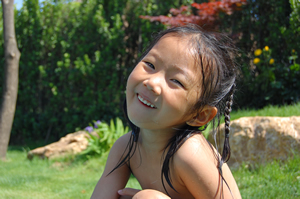 Giulia with Tania & sister Sasha - April2007