19 May 2007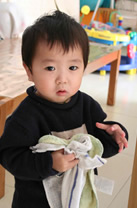 There is a beautiful, but very sick little boy at Blue Sky Healing Home, that is urgently awaiting life saving surgery. His name is Tian you and he is two years old. Tian You was abandoned at birth because he was born with cloaca exstrophy (bladder born on the outside), which is a very rare birth defect, as well as no anal opening, inguinal hernia, genitals that need repair and reconstruction, and only one kidney. It is incredible that in this condition he is not only alive but is a playful and active toddler. His liveliness hides the fact that every day his life is at risk.
Tian You arrived at Blue Sky Healing Home aged just 5 days old, and has undergone various surgeries - both here in Beijing and also in Singapore. The doctors are all in agreement that his case is a very hard and complicated one. His bladder remains exposed and he needs daily catheterization, both of which make him very susceptible to life threatening infections. His solitary kidney has already suffered damage and there is a definite possibility that he could go into renal failure.

Despite the best efforts of the previous surgeons, the complexity of his condition requires the expertise of Dr John P. Gearhart and his team, based at Johns Hopkins Children's Center in the USA, who have had experience treating over 80 of these rare cases. Referred to us by other pediatric surgeons and the Bladder Exstrophy Association in USA, Dr Gearhart is willing to carry out the surgery and has generously agreed to waive his fees but the hospital costs are unavoidable and at this point are estimated at USD $100000 for the first stage of repair, providing there are no major complications.
Blue Sky Healing Home is a small foster home in Beijing China, that cares for orphans with medical needs by arranging for and funding surgeries. Most of our surgeries are carried out in China but the severity of Tian You's condition makes him an exceptional case. This is not our usual way of approaching our children's medical needs but we want to give him the best opportunity for life that we can and we recognise that this sum is beyond our own means.
Therefore, we need your help to give Tian You a chance of life.
Kindly consider making a donation to help us pay for his medical fees at Johns Hopkins Children's Center. With the kind assistance of Children's Hope International, a licensed, not-for-profit 501(C)(3) (USA) adoption and humanitarian agency, donations can be made online and will be forwarded directly to the hospital to pay for Tian You's fees. Please go to CHI's webpage http://orphan.childrenshope.net/Make-a-Donation.186.0.html and click on Category "Medical" and "China" and then go to page 2. Tian You is listed under Emergency Surgeries. Indicate again in the comment box that the donation is for Fu Tian You . Please also email tianyou@blueskyhealinghome.org to let us know that you have made a donation. CHI will issue a tax receipt for your donation. Donations can also be made by US checks. For more information on Tian You, please visit his webpage at www.blueskyhealinghome.org/futianyou.htm.
On behalf of Tian You, thank you for considering to help save his life.
Tania Suhandinata
Founder, Blue Sky Healing Home, Beijing, CHINA
Since opening in June 2004, the number of children BlueSky has helped as of March 24, 2008
78 !
A Medical and Physical Therapy Foster Home for Orphans in China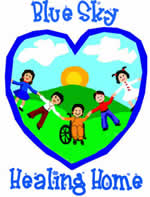 Donors List to Tian You's medical fees at KK Hospital
In Singapore: Han Seng Juan, Vincent Ang, Karen Goh, David Lew, Loh Chong Huei, Bob Teh, Alex Kok, Richard Yeo, Tony Yeo, Frederick Hong, Clinton & Pheona, Jamie Wong, Mark Wong, Bernard Ngiam, Patrick Yap, Francis Tang, Chan Man Wai, Tham Wai Meng, Tay Kim Seng, Chua Eng Sin, Rose Fung, Wilson Lee, David Lew,
Special thanks to Karen Goh, Han Seng Juan and Wallace Tan.
Special thanks to the The Thio Family.
In Beijing: South AFrican Ball Charity Raffle, ANZA Melbourne Cup Raffle, BlueSky Charity Luncheon in Aid of Tian You
And many other wellwishers that prefer to remain anonymous.
We thank you all for your kind contribution to his medical fees. We had tried to apply for free surgery funding via a foundation, but Tian You was deemed to have a poor medical prognosis (meaning he would not be considered "normal" even after surgery) and hence rejected under the funding criteria. As a result, we have to pay for his medical fees, but KK hospital has said that they will assist us in keeping the costs as low as possible.
For more on Tian You, please visit his blog site as well.
www.blueskyhealinghome.org/tianyoublog.htm
apologies for the messiness of the webpage... we are not professional web deisgners...
News update ! Surgery has been performed and Tian You is recovering beautifully. Thank you to all supporters!