Fu Xia (aka JianGong)
We would like to introduce you to Fu Xia, a lively 8 year old boy who came to Blue Sky in 2005. He has a rare muscle and joint disorder called Arthrogryposis and Clubbed Feet, but he doesn't let THAT slow him down. Fu Xia is very active and loves to be involved. He moves around by rolling or using his wheelchair and does so with ease and confidence. Regular physiotherapy has helped his strength and movement, and although it is likely that he will always be in a wheelchair, he has the ability and determination to be as independent as possible - just try to stop him !
Because of his disability, he is not permitted to attend the local schools (they are simply not equipped to handle such students). However, through the generous response to our appeal to help him go to school, he is attending a bilingual Montessori kindergarten. He has simply thrived in their environment and it has helped him become a very self confident and independent young man. He is so very bright and really enjoys math, geography and language. The school, Mammolina's Children's Home (http://www.montessori.ws/) has kindly taken on sponsorship of FuXIa into their school for his third year now.
Fu Xia is the oldest child at Blue Sky and is an excellent big brother to the other children. He is loving, kind,
respectful, smart and, apart from his physical disabilities, he is like any other 8 year old boy. He often wrestles with his roommate LuoFei. He loves to chatter away in English with the volunteers and will happily teach Chinese to those who are struggling ! His favorite pastime is painting and drawing - which he does with much patience and creativity. This has helped his coordination immensely. He also enjoys playing with construction toys and will eagerly play - wrestle on the floor with any willing grown up that he has managed to seduce with his huge smile and friendly banter.
He plays at pretending to be on a spaceship going to the moon and dreams of visiting Disneyland to meet his hero, Mickey Mouse. We also know he has another dream - one that he keeps deep in his heart, a dream he doesn't dare utter aloud, not even in a whisper. Instead he sits and watches and waits. He watches the younger, physically-able children leave to join their new mommy's and daddy's. He never complains or asks for pity but sometimes, just sometimes, his big brown eyes betray the secret he keeps all to himself. How he would love his own mummy and daddy too.
We continue to enjoy every moment with our lovely little Fu Xia, but we too dream that there is a special, special family out there just waiting just for him, what a fairytale ending that would be for this little boy who came from such hard beginnings.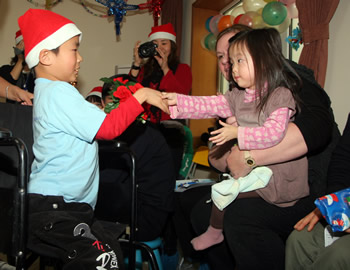 Written by a long time volunteer and dear friend of FuXia.
________________________________________________________________________________________
Fu Xia (aka JianGong) - a little history
Fu Xia had a very hard start in life, abandoned at birth and initially placed in an institution that primarily cared for children with mental health problems, he had very little in the way of health care, stimulation or love. He was born with a rare congenital condition called Arthrogryposis, which is a muscle and joint disorder, badly clubbed feet and a dislocated hip. He is unable to walk, but from a young age he has learnt to roll on the ground in order to get from A to B.
Fu Xia could not attend the local village school as they were simply not equipped to deal with physically disabled children. As a result he had no formal education before the age of 6 years. He could neither read nor write and his spoken language skills were extremely basic.
Fu Xia came to our attention in November 2004. We visited his home because we wanted to donate some baby formula, clothing etc. and to enquire if they needed medical aid for any of their children. Fu Xia stood out as he did not have the same mental health concerns as the other children, and he appeared to be in need of specialist medical help, help that we knew his present home could not afford to give him. He also needed to attend school in order to give him a better chance in his future life.
In January 2005, after consulting with orthopedic surgeons in Beijing, we arranged to have Fu Xia brought to Beijing. His first reaction upon entering our medical foster home was a look of pure amazement. He asked how come there were people and animals moving in a box. He was referring to the television. Needless to say, we all felt a pinch in our hearts for things that we take for granted. In March 2005, Fu Xia underwent the first stage of surgery to correct his clubbed feet. We also learned that his muscle and joint condition could only be helped marginally with physical therapy, and that in the long term, he would most likely have to rely on a wheelchair to move around. In October 2005, he underwent hip surgery to correct his dislocated hip with visiting orthopedic surgeons from Stanford University, USA. Through all his surgeries he has been an extremely brave boy.
In January 2008, he was seen by orthopedic surgeons, Dr David Roye and Dr Josh Hyman. They recommend that Fu Xia have more surgery to correct his feet and are willing to add him to their list of candidates for their next surgical mission to China in October 2008.
Since coming to Blue Sky Fu Xia's life has changed dramatically. He now, with the aid of sponsorship, attends an international bilingual school and has almost caught up on his missing years of education. Due to physical therapy and the patience and love of his teachers he can now do so many things that we never dared believe would be possible - such as cutting out intricate shapes with scissors, learning to play the violin and drawing beautiful pieces of artwork. The control he now has over his once extremely weak hands is wonderful to witness.
Fu Xia is now a bright and determined young man who has come such a long way from his very humble beginnings, we hope his future path through life will be as positive, he certainly deserves it.
Fore more information on FuXia, please do not hesistate to contact us.