A Medical and Physical Therapy Foster Home for Orphans in China
physical therapy

-Provide short term rehabilitation for children with physical disabilities and conditions which cause secondary developmental delay.
· Teach family or caregivers how to work with child emphasizing improving functional abilities in his home or institutional setting
· Teach basic rehabilitation concepts that can be used to assist other disabled children when the caregiver returns to his institution.
· Each child will get a written program and educational material will be given to the caregivers
Our Rehabilitation Center is partially supported by BICCO and China Care Foundation.
We ask caregivers and foster parents to accompany each child when possible.
· having the familiar adult will give child sense of comfort, security, and continuity in new, frightening situation
· caregiver can give us a true picture of child's current abilities and what he is expected to be able to do at 'home'
· be responsible for daily care of child which will allow us to function with less staff. We assume primary role of teacher and supporter in addition to providing accommodations and meals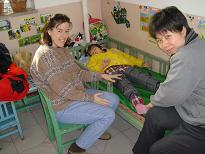 Location: Unit 11-14-27 Cuigezhung Xiang, Ma Quan Ying, Chaoyang,Beijing 100103, CHINA Tel: 86-10-64346767
Mailing Address: Villa 296 Beijing Riviera, 1 Xiang Jiang Bei Road, Chaoyang, Beijing 100103, CHINA
Contact Us
Tania Suhandinata +86-13520000288
Molly Albers. PT +86-13552903061
info@blueskyhealinghome.org