To help BlueSky- you could:
1 - come volunteer regularly if you are living in Beijing (currenty we are not accepting any live-in volunteers due to space constraints).
2 - help raise funds on our behalf for surgeries or operational expenses (throw a bazaar fair in your home, sell something homemade, etc)
3 - help get donations from hotels & other sources for used bedding, blankets, towels, pillows, etc. (we distribute these to orphanages as well)
4 - sponsor an ayi (caretaker) for a year
5 - Cash sponsorship of some of our costly expenses: Infant formula (up to 1000yuan a month), Diapers (up to 1000yuan per month), Electricity/Utilities (2000yuan per month), Medicines: On average, our monthly over the counter pharmacy items are about 1500 yuan per month (items like vitamins, cod liver oil, asthma medications, nursing supplies).
Since opening in June 2004, the number of children BlueSky has helped as of June30th 2011
121
A Medical and Physical Therapy Foster Home for Orphans in China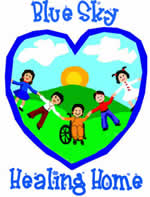 Current Needs list
Bedding
Sterile Gloves
Sterile gauze
Antiseptic Creams
Diaper Rash creams
Nebuliser face mask and tube set (pediatric)
Multivitamins (infant and children)
Cough and cold formulas
Recycled paper - A4 size (one usable side is fine)
Used cell phones for staff
Whiteboard markers, pens
OTHER GENERAL NEEDS
Adult pillows, child pillows (& covers)
Comforters or blankets (we've been increasing our staff load)
Twin Beds/Mattresses, cribs, child beds, sofabeds
Clothes cupboards or drawer units (something to store clothes)
Towels (large and small)
Toaster Oven
CD Player

Construction paper or used papers that kids can still draw on
Garbage cans/dustbins, plastic bags
Mops, rags, cleaning products, bleach, etc
Colourful posters to decorate the walls, etc

Items can be dropped off during the day at BlueSky ! If you need directions, please call 64346767 (chinese). For help in english, please contact Dr Maria He at 13910073608. We are located near Beijing Riviera Compound, off Jingshun Road, Chaoyang District, Beijing, CHINA.
Email: enquiry@blueskyhealinghome.org
We will always need to collect baby and children's clothes and toys. This is because we visit and work with many different orphanages around China, and each time, bring them something from our stash of donations. We also want the children that stay with us to go home with the clothes that they had been wearing in our home, and even take the toys they enjoyed playing with, and then some for their friends at the orphanage.